By Kevin Eckert
128 pages, lay-flat binding,
English and Spanish Language Edition
ISBN #0-9729540-0-7
$39.95 plus $4.00 shipping and handling (single copy, in U.S.)
Bulk order discounts are available, please contact us.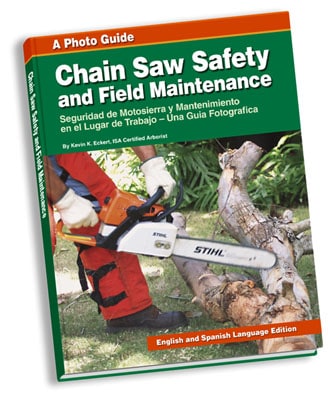 Safe operation and proper maintenance is a major challenge and concern for anyone who owns and/or uses a chain saw. Many injuries occur and thousands of dollars are lost each year as a result of inadequate chain saw safety, operation and maintenance knowledge and practice.

This photo guide has been developed specifically to offer easy to understand visual illustrations of proper practices and techniques that should help anyone operate and maintain their chain saw more safely and effectively.

Although this guide is designed for all levels of education and experience, its pictorial format makes it especially valuable for those who learn best with pictures and/or have reading challenges.
La operación segura y el mantenimiento apropiado es un desafío y una preocupación para cualquier persona que posea y /o utilice una motosierra. Muchas lesiones ocurren y miles de dólares se pierden cada año como resultado de una inadecuada seguridad cuando se opera una motosierra, y de la práctica inadecuada de mantenimiento.

Esta guía fotográfica se ha desarrollado específicamente para ofrecer fácil entendimiento de las ilustraciones visuales de prácticas apropiadas y las técnicas que pudieran ayudar a cualquier persona a operar y a mantener su motosierra con seguridad y efectivamente.

Aunque esta guía esta diseñada para todos los niveles de educación y de experiencia, su formato ilustrado es especialmente valioso para esas personas que tengan problemas en la lectura y /o aprendan mejor con fotografias.
It has come to our attention that there are some grammatical errors in the Spanish translations. We offer an errata sheet in PDF format to correct this. Please click here.