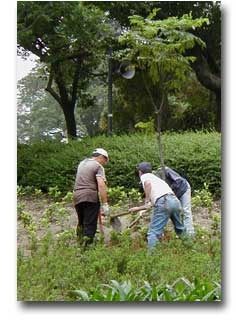 Trees and shrubs are an important feature of our landscapes providing many functional, measureable benefits. However, to effectively realize these benefits, we must ensure that we select the right tree or shrub for the site and at the nursery, plant them correctly and provide appropriate establishment care.
Tree and plant selection is one of the most important decisions a property owner to ensure the success of new or replacement plantings. Matching the plant to the site often will determine if the plant will be successful and achieve landscaping goals. Selecting a healthy, well-structured plant at the nursery is equally important to ensure that the individual plant is in a condition to grow and thrive as desired.
Proper installation of trees and shrubs is critical to provide the foundation for development of your plant. Conduct of correct handling, transport, root preparation, planting pit size, soil back fill materials and process, water and mulching must be in conformance with industry standards and practices to assure short and long-term success.
Establishment care of trees and shrubs should be considered an investment. Much like raising a child or pet, provision of required growing conditions and training will determine whether a well-bred plant will thrive or behave as desired to meet your landscape goals.
Healthy trees and landscapes have been shown to increase property values as well as ensuring that the trees and plants provide their multiple aesthetic and functional benefits. Preventing challenges through proper selection, installation and care is much less costly and much more successful than treating or managing problems.
Arbor Global is an expert in tree selection and care, with significant experience in this area throughout the world in both tropical and temperate environments. We have prepared many, technically correct specification documents to contract and guide this work. We have physically conducted many demonstrably successful tree and shrub selection, installations and establishment care programs.
To learn more about Arbor Global's Tree Selection, Installation, Establishment and Care Services, please contact us.
Links:
Tree Selection – http://www2.champaign.isa-arbor.com/consumer/select.html
Buying Trees – http://www2.champaign.isa-arbor.com/consumer/buying.html
New Tree Planting – http://www2.champaign.isa-arbor.com/consumer/mature.html
Mulching – http://www2.champaign.isa-arbor.com/consumer/health.html
Pruning Young Trees – http://www2.champaign.isa-arbor.com/consumer/young.html
Pruning Mature Trees – http://www2.champaign.isa-arbor.com/consumer/pruning.html
Mature Tree Care – http://www2.champaign.isa-arbor.com/consumer/mature.html
Total Plant Health Care – http://www2.champaign.isa-arbor.com/consumer/health.html
Insect and Disease Problems – http://www2.champaign.isa-arbor.com/consumer/disease.html