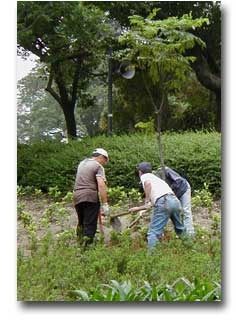 Trees and shrubs may be the most important feature of our landscapes providing beauty, shade, and screening. Trees and shrubs also provide oxygen, store carbon, prevent erosion, provide wildlife habitat, and filter pollutants and noise. However, to effectively realize these benefits, we must ensure that we select the right tree or shrub for the site and provide appropriate care.
Tree and plant selection is one of the most important decisions a property owner must make when contemplating new or replacement plantings. Not matching the trees and shrubs to the site or neglecting or providing inappropriate care can prevent the plants from performing their desired function and result in liabilities and unnecessary costs.
Proper care of trees and shrubs should be considered an investment. Healthy trees and landscapes have been shown to increase property values as well as ensuring that the trees and plants provide their multiple aesthetic and functional benefits. Proper selection and care will ensure that trees will most cost-effectively perform their desired functions for many years and prevent challenges, which is much less costly and irritating than treating or managing problems.
Arbor Global is an expert in tree selection and care, with significant experience in this area. Based on his reputation, Arbor Global's president is regularly solicited for tree selection and care advice and has published many articles on this topic.
To learn more about Arbor Global's Tree Selection and Care Services, please contact us.
Links:
Tree Selection – http://www2.champaign.isa-arbor.com/consumer/select.html
Buying Trees – http://www2.champaign.isa-arbor.com/consumer/buying.html
New Tree Planting – http://www2.champaign.isa-arbor.com/consumer/mature.html
Mulching – http://www2.champaign.isa-arbor.com/consumer/health.html
Pruning Young Trees – http://www2.champaign.isa-arbor.com/consumer/young.html
Pruning Mature Trees – http://www2.champaign.isa-arbor.com/consumer/pruning.html
Mature Tree Care – http://www2.champaign.isa-arbor.com/consumer/mature.html
Total Plant Health Care – http://www2.champaign.isa-arbor.com/consumer/health.html
Insect and Disease Problems – http://www2.champaign.isa-arbor.com/consumer/disease.html