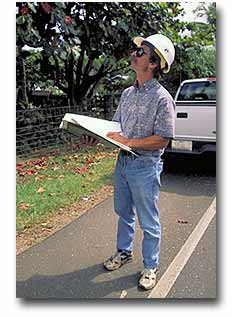 Trees are true assets where they are healthy and structurally sound. However, due to human pressures, construction, and natural processes, trees may present unreasonable risks.
All trees will eventually fail and die. The best we can ever hope is to prolong a tree's health, safety, and useful life. Knowing this will help homeowners make reasonable and effective decisions that result in safer trees for people.
The first step toward safer trees is to take responsibility. Urban trees are like any other valuable asset. Better management increases the returns and minimizes the risks. That means being proactive throughout the life of your tree, or at least as long as you have ownership. There are three simple rules toward having safer trees – systematic inspection, treating problems quickly, and removing a tree when its risks outweigh its value.
essential that tree risk management program be systematic. In a court of law, a plaintiff must prove negligence on the defendant's part in order to win a lawsuit.
Negligence arises from:
The responsibility to maintain safe trees in the community;
A subsequent breach of that responsibility, such as when a hazard tree is not removed;
Damage or injury resulting from the breach of responsibility. For example, if the hazard tree failed and damaged a car.
When a tree is damaged or destroyed it is important to establish its true economic value to ensure that you get a fair settlement and compensation for the loss and cost of replacement or treatment of damage. Arbor Global's tree appraisal experts have the expertise and experience to affordably assess the situation and/or damage to your trees and property and help you recover your fair compensation.
To learn more about Tree Risk Assessment & Mitigation Recommendations, please contact us.
Links
Recognizing Tree Hazards – http://www2.champaign.isa-arbor.com/consumer/hazards.html