Any tree or vegetation management program is only as good as the people supervising, directing, and performing the work. If the management staff or field workers do not have the technical or operational knowledge to understand the requirements and goals or cannot safely or properly apply state-of-the-art practices, the program will not fully achieve its goals and may even encounter significant challenges.
Arbor Global specializes in the training and education of all levels of staff and field workers to ensure that they have the base knowledge and understanding to safely and satisfactorily perform their work according to state-of-the-art arboriculture and vegetation management policy, procedures and specifications.
Training programs offered by Arbor Global include, but are not limited to:
Certified Arborist
Certified Tree Worker
Basic Tree Climbing for Arborists
Electrical Hazard Awareness for Arborists Certification
Chainsaw Safety and Field Maintenance
Tree Felling, Limbing and Bucking
Aerial Lift Safe Operations for Tree Workers
Aerial Rescue Certification for Climbers and Aerial Lift Operators
Wood Chipper Safe Operations
Fall Protection Certification for Arborists
Tree Risk Assessment Qualification through the ISA
Tree Health Assessment
Tree Selection, Installation and Early Establishment Care
Tree Pruning: Structural Pruning of Young Trees
Tree Pruning: Mature Trees
Tree Pruning: Restoration of Damaged Trees
General Tree Safe Work Practices Based on ANSI Z133
Training and education will provide staff and field workers with a level of understanding that will facilitate their ability to effectively identify opportunities for continuous improvement.
To learn more about how Technical Training and Education for Workers and Management can help your program, please use the contact form to get in touch.
---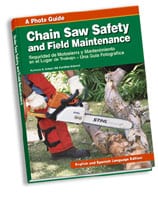 Chainsaw Safety and Field Maintenance available now. We also have a new Safety Manual available. "Chainsaw Safety and Field Maintenance" is a bi-lingual photo guide in English and Spanish. Click here to order the book.